So, what do YOU think about "One Froggy Evening"?
Topic: Your opinion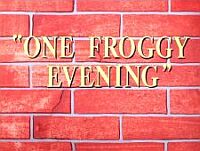 Many consider OFE to be one of the greatest cartoons ever made. Others say that sure, it's a good cartoon, but there were many other LT&MM films which were even better.
Here's your chance to weigh in on the subject: how would you rate "One Froggy Evening" and why?
Just click on the "Post your Comment" link under this to chime in with your 2 cents...
Posted by froggyeve at 6:03 PM CST